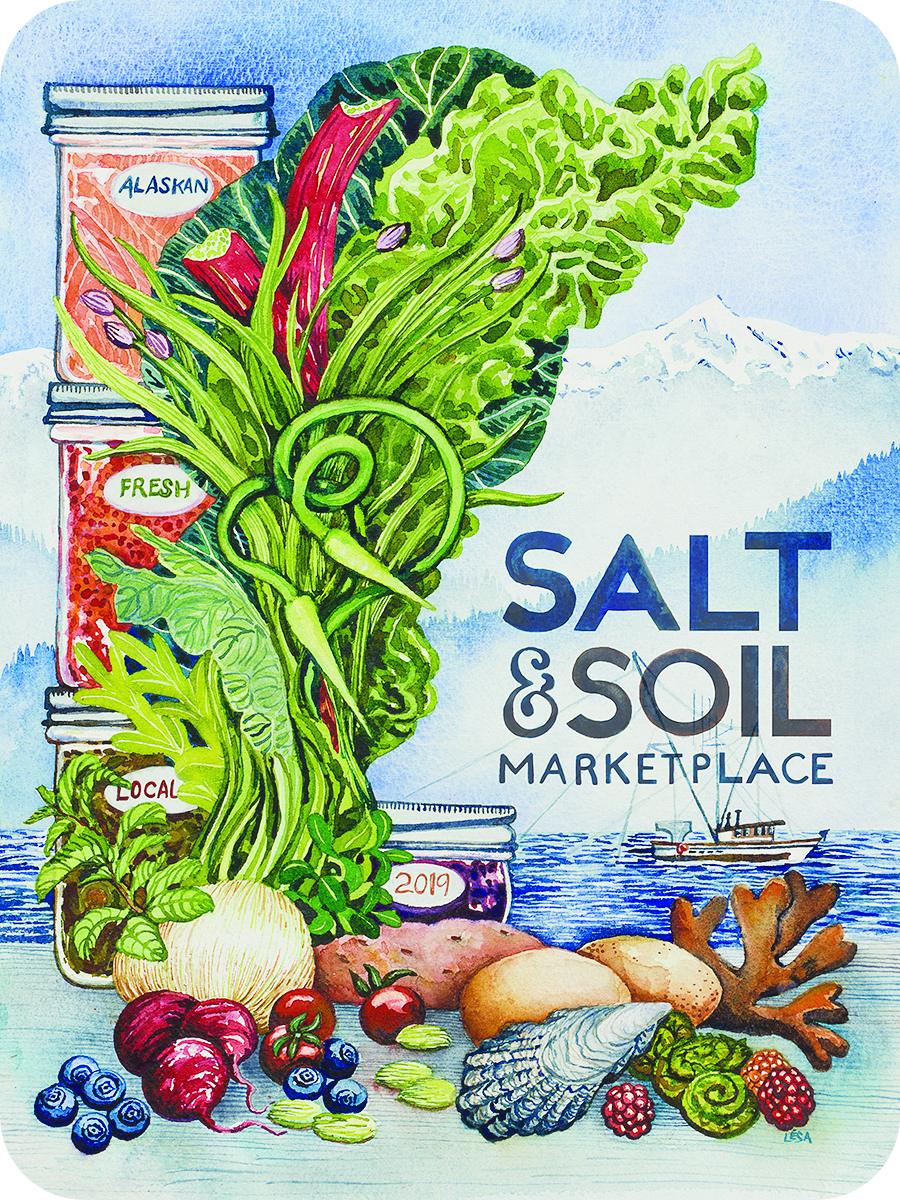 A slice of Southeast: How the current state economic issues might be affecting small food business in Southeast Alaska
by Colin Peacock, Local Foods Coordinator at the Southeast Alaska Watershed Coalition and manager of the Salt & Soil Marketplace. Learn more at www.saltandsoilmarketplace.com
Salt & Soil Marketplace, an online farmer's market selling local food in Juneau, Sitka, and Haines, has been open for almost three years now. In that time we saw our sales double the first two summers, and we were happy to announce at the last Alaska Food Policy Council conference in Homer that we expected to continue to grow steadily this summer. Sadly, that did not occur; instead our sales are half of what they were from last year.

We interviewed Juneau customers of Salt & Soil and other farmers, farmers markets, and landscapers to determine why this is happening. Are we alone in our local food slump or is this a larger region-wide occurrence?
From a customer perspective the most common answer we heard was one relating to economic insecurity. Budget cuts to the ferry system, the university system, family members potentially losing jobs, or just feeling generally insecure about spending more on local food when the economic future of Southeast Alaska seems to be in peril were the kind of answers we received. Another common response was email burnout, that our newsletters were simply not being opened. Lastly, we did hear that as people become more politically active (to protest the various budget cuts or in support of the ferry system for example) they were just not finding time to shop on our marketplace.
In interviewing other local markets, landscapers, and farmers, the trend of lessened or halved sales continued for a local landscaper, but not so much with other markets. Panhandle Produce, a local foods marketplaces run by Kylie and Eli Wray, who are also farmers and cottage food vendors, was in fact growing steadily. Their new store is on the way to Costco, and they credit their increased sales and growth due to the facetime they have with customers, and in talking to them about the importance of local foods. To quote Kylie:
"We are very much face-to-face for every single transaction that takes place is a direct interaction. I'm able to pretty much have that conversation about where is this item is from whether it's Haines, Farragut bay, or down the road. So I think people like having that conversation and I think that they like knowing more about where the food is coming from and having that personal interaction is really valuable."

As far as addressing the economic stresses that are deterring people, we are less sure what there is to do but look for new ways to learn from our successful partners and get our local food producers in front of people in order to keep customers engaged. Case in point, the once a month local farmers market, Second Saturdays, also recently lost their location in the Airport Mall. We are now working with them to combine forces and distribute our online orders during their physical farmers market, and do so in the more heavily trafficked downtown area of Juneau, so that next year we too are getting more people directly interacting and supporting those who produce local foods.
Again, to quote Kylie,

"I think that the second you put out an open-air tent and right underneath people can clearly see you - like your own little cornucopia of vegetables. Maybe that is the sign that they need."